World Cup Kvitfjell are looking forward to welcome the world's best alpine girls to World Cup races in Kvitfjell. The girls are going to do Downhill and Super-G, in World Cup this is in fact historic. This is the first time with races in Kvitfjell as part of the World Cup Women calendar.
By Stein B. Olsen

The girls have challenged Kvitfjell earlier too, but it is a long time ago. The last time was during the World Cup finales in 2003. This means it is 20 years since last time, and the races in 2023 will also be a 30 years' anniverary for the World Cup in Kvitfjell.
The organizer in Kvitfjell has for several years struggled to get World Cup for women to the region. the goal has been to have women's races in Hafjell. Now we will instead have Downhill and Super-G in Kvitfjell. And just that the organizer is looking forward to.
In 2023 we will have three races in Kvitfjell, two Super-G and one Downhill, March 3rd, 4th and 5th. Saturday will be the traditional Downhill Saturday in Kvitfjell.
– We have a Norwegian women's national team in progress, with Ragnhild Mowinckel and Kajsa Vickhoff Lie in the lead. Then it is comes quite naturally that Norway and Kvitfjell should organize World Cup races for women, says CEO in Hafjell-Kvitfjell Alpin AS, Ole Kristian Kirkerud.
Hectic activity in FIS
During the spring there has been a hectic activity in FIS, the international ski federation, who decides the calendar for the season. Kvitfjell is out of the calandar for the men, but in for the women, like it was also in 2006.
– The goal for our company is that vi should have races for both men and women. Norway as an alpine skiing nation deserves it, and the distribution between the Nordic countries and Middle Europe is unbalanced when it comes to number of races. As FIS in addition to this has ambitions to get new venues into the map of organizers, then there will obviously be a lack of weekends for more events, says Kirkerud.
This year's World Cup in Kvitfjell came to be a pure success. FIS Race director Markus Waldner emphasized Kvitfjell as one of the very best races this winter during the spring meeting in FIS, and there is no doubt that he readily would have had men's races in Kvitfjell also in 2023.
-We take the challenge given us from FIS. We will build further on what we accomplished in 2022. This means full effort both on snow and outside. The goal is absolutely clear, we will make the same experience for the same amount of people as we did this year. Further, it is important that the girls also are let into Kvitfjell with World Cup. That they deserve, says Kirkerud.
The organizer in Kvitfjell will continue working in cooperation with Norges Skiforbund (the Noerwegian Ski Federation) to get races for both women and men in 2024. Further on, Hafjell/Kvitfjell is one out of two candidates to organize the World Cup finales in 2025. That assignment will be done at FIS' autumn meeting in 2022, and if we succeed in that effort, it will be like a small World Championship, with all disciplines for both women and men.
-We have good signals related to the finales, Kirkerud says.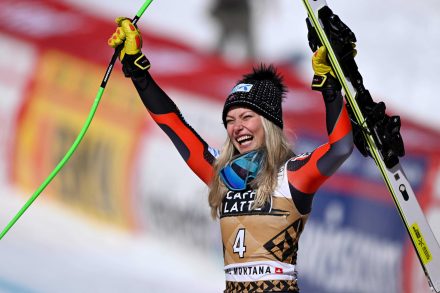 Ragnhild said (translated from Norwegian):

– To take part in World Cup races in Kvitfjell has been a desire for me for many years, and now we girls finally get the opportunity. This will be tremendously cool. I have never done speed races on home ground, but I must say that I am looking forward to it already. For many years we have had training collections after the season in Kvitfjell, and it is a fantastic venue and course that I think fits me well. Next winter I hope there will be at least as big an audience in Kvitfjell as it was when the boys raced there last winter, and I promise that we will entertain, says Ragnhild Mowinckel.